What We Are Learning
We are strongly committed to collaborating and strengthening the field through efforts with key partners. The efforts below are just a few of the many resources we have codeveloped to integrate global competence and to highlight exceptional practice. 
Resources in the Field
Interested in integrating global understanding into your school and district and don't know where to begin? Here is a list of resources organized by type.
Mapping the Nation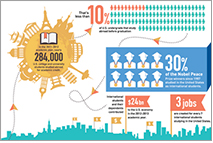 Mapping the Nation is an interactive map that pulls together demographic, economic, and education indicators — nearly one million data points — to show that the United States is a truly global nation.Working with Asia Society, SAS Statistical Software and the States Network, Longview co-sponsored and managed the collecting, reporting and analysis of almost 1 million data points in education, demographic and economic inputs and outputs. This online resource also includes state summaries, infographics, analyses, policy and teacher tools, and recommendations.


Integrating Global Skills into CTE
U.S. educators face a critical new imperative: to prepare all students for work and civic roles in an environment where success increasingly requires the ability to compete, connect, and cooperate on an international scale.One promising way in which students can learn about and apply global competencies is through Career and Technical Education (CTE). With an anchor in preparing students for the careers of their choice and a focus ct the critical academic, technical, and employability skills needed for success, CTE offers a natural platform on which to build global competencies. Globally
 minded CTE programs provide the rigorous and authentic setting necessary to prepare students for the competitive world economy, while offering a more engaging, motivating, and relevant education experience. This paper was co-developed with ACTE, NASDcTEC, Asia Society, and Wanda Monthy. Download a copy of the paper here.
Exploring International and Intercultural Understanding through Global Literature
A new guide, Exploring International and Intercultural Understanding through Global Literature, provides examples of how K-12 teachers worked together in

 study groups to integrate global children?s and adolescent literature in their schools. The guide includes links to teacher vignettes that provide rich details of classroom experiences and books that encourage global perspectives along with structures for teacher study groups. Download the new Worlds of Words literacy communities guide

 

here